Blog Engage is one of the best community of bloggers that you can join for gaining traffic, backlinks and a massive exposure. It is a paid community of professional bloggers where they promote their own posts among thousands of other members. As of February 2013, Blog Engage has 2700 members with over 117,000 content submissions.
Other than backlinks and traffic there are also other features which you can use to take your blog to the next level and also earn some money in the process. Let's take a look at the features of this awesome community that I'm a part of.
How does Blog Engage work ?
Blog Engage acts like a social bookmarking site where you can submit articles of your own and others (provided they haven't been submitted earlier). Blog Engage has two main pages – Published and Upcoming. The published page will display the recently popular articles based on votes given by other Blog Engage members. The minimum number of votes required to publish an article is 6.
The Upcoming page displays the recently submitted posts by other members. Here, you can vote on other's articles and comment on them simultaneously. On each of the individual post's individual page, you can also check out who voted for this article.
How RSS Syndication can help ?
RSS syndication doesn't come with the Standard Account of Blog Engage (I will be discussing the details in the plans and pricing section). RSS syndication basically means that your blog's feed will be connected to Blog Engage 's feed through which you articles will appear on every Blog Engage social network simultaneously once you publish the post on your blog.
For example, Blog Engage uses dlvr.it and Hootsuite to promote content on Facebook. Once you publish your post on your blog, you RSS feed sends the data to the RSS feed of Blog Engage which sends the data to dlvr.it and thus promoting your post on Facebook.
Syndicating your blog feed will automatically get you more exposure and higher social media marketing and you can just sit back and relax.
Connect with other bloggers
We all know that building relationships with other bloggers , and Blog Engage gives you that opportunity as well. Well, voting on other's articles is the easiest way to get attention. There's also another way and that is you can directly add someone on your friend's list even though he/she won't add you. It's just like in twitter , where you can follow someone without being followed.
Another good way to connect with other bloggers is commenting on other's submitted post. When you post a comment your username will be displayed in the comment section from which the author can check you out and your submitted content as well. This can be an extremely productive way to get some attention from other bloggers.
Guest Posting Facility
Guest posting is a vital part of creating a successful blog. It is essential for building readers and subscriber e-mail lists. This is where Blog Engage can be very handy.
If you didn't know, Blog Engage also has a Guest Post section where anyone can submit guest posts. The community is very active and an impeccable guest post could earn you hundreds of readers and acknowledgements.
Publishing a very high quality guest post can get you hundreds of traffic and a massive amount of exposure.
Earn money from Blog Engage
We all know the importance of targeted traffic for a blog. It is important to build a list of e-mail subscribers. Everyone knows that "money is in the list". This is where blog engage can become useful. Remember, blog engage is a community of bloggers and therefore as a blogger yourself, you are targeting a audience which also consists of bloggers. Therefore, you automatically increase you chance of create an e-mail list of other bloggers which can help you earn more money.
It also has the feature of adding your own Google Adsense Ad code to your submitted content. Therefore, when someone clicks on on those ads you earn money. The community also holds guest posting account every 2-3 months where the normal prize money is few hundred dollars for the winner. But, the last contest of 2012 had a huge prize where the winner (Justin Germino of Dragonblogger) got a prize money of $1000. The details of how these contests are held are described in the next section.
Blog Engage Guest Posting Contest
Upto now, guest posting has been to increase backlinks and traffic. But, Blog Engage gives you the chance to make a huge profit from it by entering yourself in the guest posting contest. The contest basically works in a simple manner. The number of comments on that post, shares and likes across the social media and the influence it has on the readers. For example, Justin Germino's winning post "Should you give up on Blog Commenting" had 1300+ retweets, 2300+ Facebook shares, 700 +1s, 600+ pins and 750+ comments which is massive.

It's a great way to earn some massive amounts of money. Abhi Balani, the Oddblogger won around $750 from the contests last year. By, entering yourself in these contests you not only have the chance of making money, but you also get to increase your readership and traffic.
Affiliate Program – Affiliate Lights
Blog Engage also has an affiliate program known as Affiliate Lights which you can use to earn more money. It basically works like any other affiliate program. The good thing about this is you get $10 submitted to your account once you sign up.
After signing up, you will be given some banners and your own unique affiliate code which you can put on your site or blog. When someone buys something using your unique affiliate code then you make a 25% commission. The minimum payout for this affiliate program is $50.
Once you start making sales your account will show you the commission you have earned (pic above) and if it crosses the $50 mark then you will receive your payment in the beginning of the next month.
Other Benefits
Apart from backlinks, traffic, pagerank juice and all others leaving aside there is another side to Blog Engage which is probably more important over everything that I have mentioned upto now. And that is ATTENTION FROM TOP BLOGGERS.
When you are exposing yourself out there, someone is surely going to notice you. Having a top blogger's attention always helps to get more traffic and the opportunity to guest blog on his/her blog. Blog Engage has some of the top bloggers from around the world as it's members including Ileane Smith from Basic BlogTips, Justin Germino of Dragonblogger, Kiesha Easley of We Blog Better, Hesham Zebida of Famous Bloggers, Brian D. Hawkins of Hot Blog Tips etc.
Here's two quotes from two established bloggers.
"Blog Engage has really opened my eyes as to the real potential of networking and has helped me become a better teacher. Sure, the voting platform is nice but that's a very small part of what Blog Engage has to offer." – Brian D. Hawkins from Hot Blog Tips
"Blog Engage service considered one of the best solutions for me. And, with the Business Plus RSS Syndication I have a peace of mind. My blog authority has increased since I started to use the syndication service." – Hesham Zebida From Famous Bloggers
When you have so many influential and established bloggers in one single community, it would really be a waste of not joining such a community.
Plans and Pricing
I have covered everything upto now about Blog Engage. Now, let's take a look at the pricing and plans of the different membership options.
  Standard Account  – £19.99 (one time payment)
  Platinum Account – £9.99/month
  Business Account – £19.99/month
  Business Plus Account – £29.99/month
  Direct to Front Page Account – £199.99/month
Now that you know the pricing of the plans, let's take a look at the features that you will be getting for these plans.
Standard Account Features
A Standard Blog Engage Account includes the following features :
Manual Submission : You have to manually submit all the articles
Adsense Revenue Program : Integrate your own Google Adsense Ads with your submitted content.
Groups : You can create new groups or join existing groups and share your articles on them which can be a great source of targeted audience for your blog.
Wall : Like the wall (now known as timeline) in facebook, you will be able to follow your friends activities and stay upddated.
Community Blog : You can comment or guest post on the Blog Engage's very own community blog helping you earning valuable traffic and audience for your blog.
Blog Engage Forum : On the forum, you can meet new bloggers , ask peer bloggers to review your blog or your article and many more.
Blog Directory : You can submit your blog to Blog Engage directory which will help you rank higher in search engines for your targeted keywords.
Just Retweet : Just Retweet is a web app which helps twitter users to receive traffic to their links which is currently partnered with Blog Engage.
Free E-book : You will also get a free E-book written by Blog Engage founder Brian Belfitt.
Other Account Features
The other plans have some additional features with that of a standard account.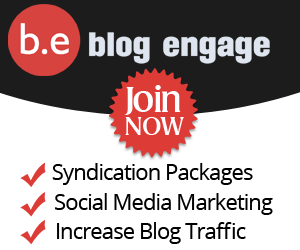 Content Syndication : It does not require manual submission. It will automatically pick up your latest blog articles by syndicating your blog feeds. The number of feeds differ from plan to plan.
Portfolio : Your blog content will be automatically syndicated to the community blog , blog SERP and Top blogged and many more. The Platinum and Business accounts provide partial portfolio. The business plus and the Direct to Front Page accounts provide full portfolio.
Content Visibility and Social Media Marketing : When you submit an article, your article will be visible to other Blog Engage members and readers. In social media marketing, your article will be shared on twitter and facebook pages (currently 4500 viewers ) helping you to establish yourself on the social media.
Featured Spotlight and Contest Giveaway: The Business Plus and the Direct to Front Page membership allows you to feature a blog by hosting a contest or giveaway. The contest giveaway and a front page feature (only for Direct to Front Page membership) can really generate enormous amount of traffic.
Well, that's about it. So, what are you waiting for ? Join Blog Engage today if you want to take your blog to the next level. Here's also a video to help you out even more.
So, what do you think about this community ? Do share your views with us. If you're already a member of Blog Engage, you can share your experiences with us on how the community has helped your blog to grow. We love getting feedbacks.
Join Blog Engage to take your blog to the next level with traffic,seo,backlinks and some spotlights. lionblogger.com/blog-engage-th… via @lahaulseth

— Lahaul Seth (@LahaulSeth) February 22, 2013